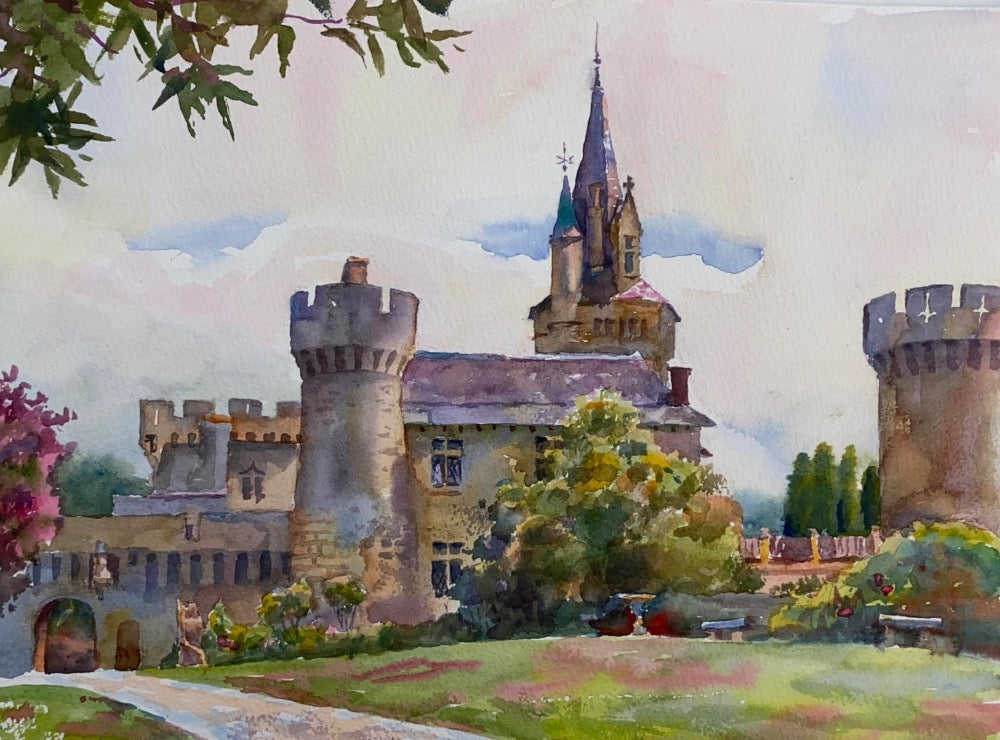 Wyatt Waters Plein Air Watercolor Retreat | The Perigord in Southwest France
WAITLIST ONLY!  PLEASE EMAIL KRISTI WATERS AT KRISTI@WYATTWATERS.COM TO BE ADDED TO THE WAITLIST.
Dates: June 25 -July 1, 2024

Cost:  $3,000 - $3,700 based on lodging option. ($2500 for non-painting travel companion)
Maximum number of painters: 15 
 A unique opportunity to learn new approaches to watercolor and explore your painting with master watercolorist Wyatt Waters in southwest France.  This all-inclusive retreat (excluding travel) will be held at Chateau Marouatte, a medieval castle that has been beautifully restored and sits on 270 glorious acres. Miles Copeland (former manager of The Police) owns the castle and will be our host. Over five days, we will paint on the castle grounds and nearby villages and towns. Our week will include day trips to the surrounding towns, castles, monasteries and churches, caves, Roman ruins, gardens, markets, and countryside, instruction, and fabulous meals at the castle and in the towns we visit.
Topics that will be woven into the workshop will include the different types of light and their effect on seeing and capturing color, the importance of values and Wyatt's approach to establishing values in his painting.  Each day will start with a demonstration where Wyatt will talk through these theories and afterwards, we will paint, and then conclude the day with a class critique discussion with wine from the region. While we will be working as a group, he will spend time providing individual instruction to each student as needed. 
About Chateau Marouatte: We will be staying in a fortified medieval castle in one of the most beautiful, unspoiled regions of France!  Marouatte was built in the 11th century, and added onto in the 1500's. The living quarters and bedrooms are richly decorated with period antiques and art throughout, while providing comfort with updated modern amenities.
 Dietary needs are catered by the castle's resident chefs. All meals are included, most will be served at the castle in one of the dining rooms or outdoors in on the beautiful outer bailey lawn; and others served picnic style or in local restaurants.
Cost: Included in the cost of the workshop retreat are:
6 nights lodging at the castle
All transportation while at the castle, including pickup and drop off at the train station in town
All meals (at the castle, except for some lunches in the towns we will be visiting)
Beverages, including local wine from the Bergerac region and beer
Lodging options: private room with ensuite bathroom, shared room (two beds) with ensuite bathroom, and smaller private rooms with a shared bathroom. 
Travel: Participants are responsible for their own travel arrangements.  The recommended travel itinerary would be to fly into Charles de Gaulle airport in Paris and take the TGV bullet train to Angouleme train station (50 minutes from the castle by car) — where castle staff will pick you up. You can also fly into Bordeaux-Merignac and take the train to Angouleme (approx 30 minutes ride). We strongly encourage participants  to purchase travel insurance.
Payment Schedule: Upon registration, all guests are required to pay a deposit of $950.  A second payment of $1250 is due January 15, 2024, with the remaining balance due by March 30, 2024.  Payment can be made by personal check, Venmo, or credit card (2.6% processing fee will be added to any credit card payments). If payment is to be made by check or Venmo, please email Kristi Waters (kristi@wyattwaters.com) before registering.
Contact: Kristi Waters at kristi@wyattwaters.com or 601.813.1080.